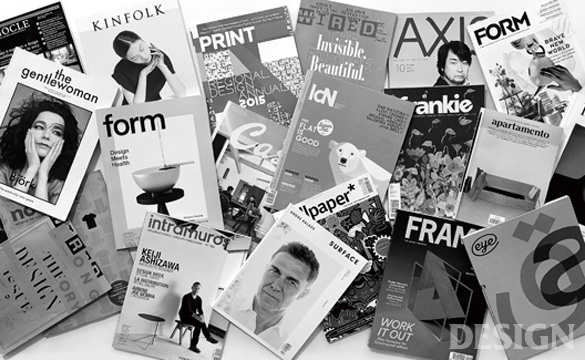 Pioneers, Innovators in Design Journalism
< Domus, Interni, Designboom of Italy >
To launch a publication is more than just starting a business, for the action reflects the desire and determination to communicate with the rest of the world with a unique, distinctive voice. Once you start doing that, it will lead to discussions of different thoughts and ideas, creating new discourses in turn. And that can serve as a driving force behind a community or an industry. Behind the launch of every great publication, there are people with passion for their craft and with much on their mind to share with others. Gio Ponti, the godfather of modern Italian design, and Ettore Sottsass, creator of post-modernism in design, are prime examples. These writers and architects never ceased to document their ideas. Italy, a leading player in design industry since post-modernism, has also assumed an important place in design journalism, thanks to a trio of major publications: Domus, a magazine with rich history built on architecture and art; Interni, whose growth has coincided with the rise of design fests in Milan; and Designboom, the world's first online design magazine that has capitalized on key opportunities in the new era.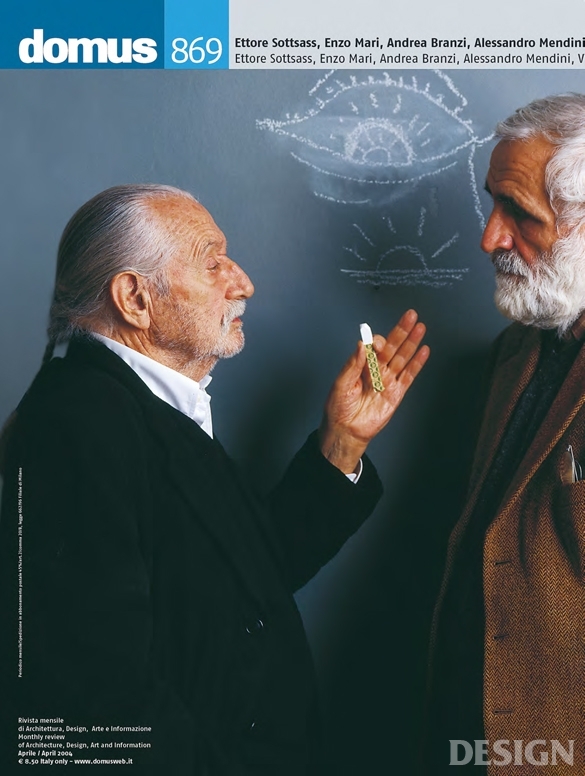 The fold-in cover of the 869thissue features the wide portraits of Ettore Sottsass, who led the post-modernism movement in Italian design, and contemporary designers who were influenced by Sottsass – Enzo Mari, Andrea Branzi, Alessandro Mendini and Vico Magistretti.

Domus, by Architect Hoping to Present Design of New Era

Launched in 1928, Domus, which means 'home' in Latin, has been like one for design journalism. In a post-war era when the industry was poised for a rebirth, Ponti started the magazine, seeing the need to start new discussions on design and exchange fresh ideas. The first edition of Domus was subtitled "Architecture and Décor of the Modern Home in the City and in the Country." Where other magazines had previously published articles on decorations for housewives, Domus delved into more academic discussions on architecture and design.

Ponti was the founder and the inaugural editor-in-chief. He was followed by Ettore Sottsass, Alessandro Mendini, Stefano Boeri, Deyan Sudjic and the current one, Nicola Di Battista. They were all influential opinion leaders as architects, designers and curators, and their expertise and first-hand experience helped produce quality contents on Italian design. Domus established itself as a monthly in 1951, the start of a golden age in the Italian design industry that lasted through the 50s and 60s, as numerous design companies working on furniture and lighting fixtures, sprang up. Riding this wave, Domus was never afraid of tackling new challenges. Its photography features with the architects' perspectives helped Santi Caleca develop into one of the world's leading architectural photographers. Sottsass' travel diary with essays and photos inspired by trips around the world, became a popular feature thanks to its original format.

These new attempts by Domus directly influenced Italian avant-garde design groups in the 1960s. Since the mid-1970s, it went international with English and French editions. Today, the magazine is available in Italian and English. In March, the global magazine will celebrate its 88th anniversary and print its 1,000th edition. Works by some 1,990 journalists and writers -- 14,800 articles, 274,440 photos, 59,940 designs and sketches – for nearly a century have made their ways into 140,000 pages. The magazine based in a small town in northern Milan called Rozzano, and 46 percent of its copies are sold overseas. The truly global publication reaches readers in 89 countries every month. No innovation can be greater than sustained excellence. And when everyone started wringing hands over the demise of hard-copy magazines, Domus apparently didn't get the memo.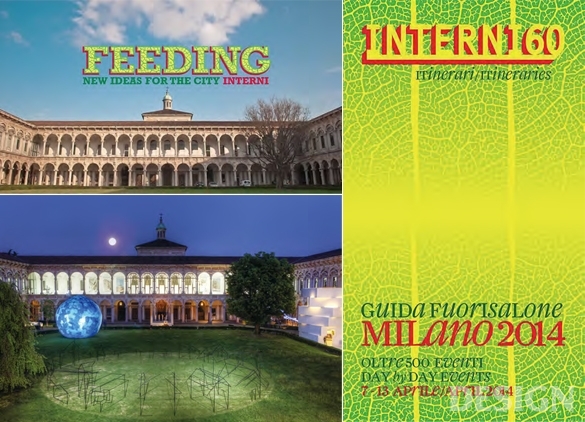 Interni, which prints guides on Fuori Salone, the outdoor exhibition during Milan Design Week, hosts an exhibition by world-class designers, architects or artists under different themes each year at the University of Milan. In 2014, the theme of the pre-Milan Expo exhibition was "feeding," and Interni published a guide on the occasion.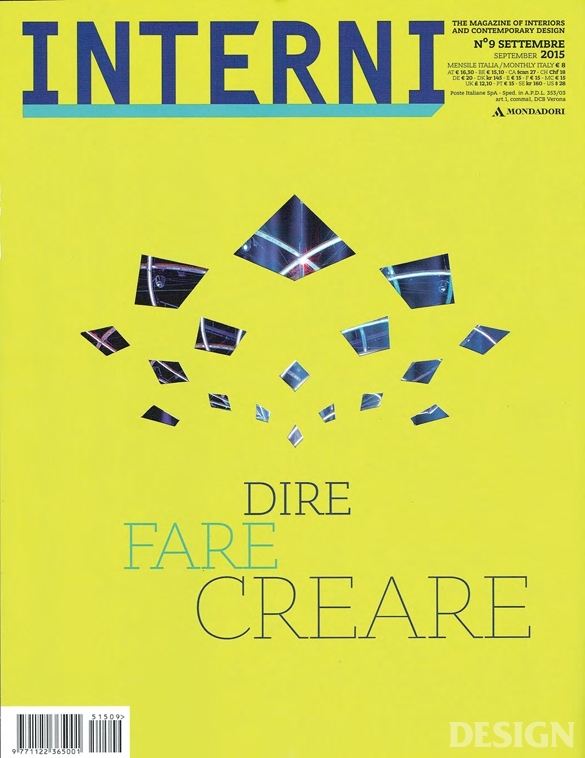 The audacious cover design captures the avant-garde spirit of Interni. The messages of 'dire (to speak),' 'fare (to do)' and 'creare (to create)' reflect the Italian approach to design that stresses the philosophy based on thinking and introspection.

Interni, Design Database Built by Journalist

Where Domus placed its focus on architecture and art, Interni launched as 'Rivista dell'Arredamento' in 1954 – started out documenting the vibrant Italy in the 1950s at a time when the public interest in design just started to grow. It adopted its current name in 1967 and had since grown into the global database for designers. What clearly separates Interni from Domusis that throughout its 62 years in print, seven editors-in-chief have been professional editors, art critics or journalists – the types who could take a step back from the industry and offer a more objective view on design.

Studying design in the general social context, these experts turned their eyes to the explosive growth of furniture and lighting equipment industries in the 1950s. They also covered automobile and kitchens, among other new areas of design that began to embrace the advanced technology. Interni also printed latest trends among relevant corporations and also information on new products, helping the industry grow in the process. The magazine also recruited former architects, designers and curators as columnists to offer incisive commentaries on a wide range of topics. Cristina Morozzi, director of education at the Italian design school Marangoni who unearthed the unheralded designer Philippe Starck, pens articles on design. World famous curator Germano Celant writes art stories. Architect-turned-writer Virginio Briatore handles stories on new designers.

Interni attained international renown by making and distributing the first guide for Fuori Salone, the outdoor exhibition at the Milan Furniture Fair in 1994. The guide provided details on the exhibition schedules and local information for visitors. It also highlighted distinct features of areas such as Zona Tortona, Brera and Lambrate, and profiled a great number of young designers who had worked on outdoor shows of varying sizes. The guide became the gateway to stardom for up-and-coming designers. Thanks to the guide, the furniture fair was able to go beyond the confines of its exhibition area and reach across the whole city. Substantial revenues from advertisements for design studios and firms gave the magazine much financial stability. Interni also serves as a consultant for corporate design events or exhibitions. It's only a slight exaggeration to say every Italian design business goes through Interni. As design platforms go, it's virtually irreplaceable.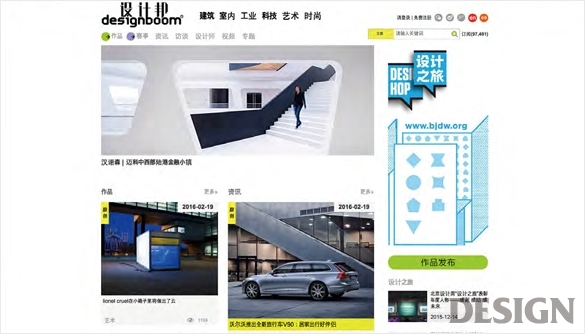 In 2014, Designboom launched its Chinese site at www.designboom.cn.


Designboom, Birth of Democratic Online Publication


Following the rise and fall of leading design magazines such as Terrazzo and Modo, the digital age arrived. And Italian design journalism was a step ahead of others in responding to the change. In 1999, a year after Google came up with its search engine, Designboom, the trailblazing architecture and design magazine in digital form was established. It inherited the rich tradition of earlier design publications with its unique brand of new digital language.

German-native Birgit Lohmann and Italian-born Massimo Mini, who first met at the University of Florence before tying the knot, had burgeoning careers in industrial design and architecture in their early 30s. Yet they were also struggling to get past the elitism in design, with only a few established designers handling major projects. Hoping to get into a new field, they wrestled with HTML in the cyberspace at a time when personal computers – let alone Web design software – were scarce. Old design magazines mostly featured famous architects and designers, but Lohmann and Mini focused on up-and-coming designers and communities that readers of the same generation could relate to, and gave Designboom their own identity.

Amid the spread of computers and the Internet, along with an increasing interest in design, readers started flocking to free online contents of Designboom over design magazines that are often more expensive than regular magazines. Designboom has some 3.12 million followers on Facebook, Twitter, Google+ and Pinterest, and about 2,600 concurrent users connected to its mobile Web site. It has expanded its horizons as a PR platform for global brands such as Hermes and Lexus. Designboom has also worked with design contests for brands – as a consultant or a judge – and hosts its own exhibitions. It recently launched an online design shop hosting individual sellers to sell their design products. In 2014, it launched a Chinese site, targeting the ever-growing market and quickly became the most influential architecture and design publication in the country.

While capitalizing on benefits of the digital age, this online publication seems to know no boundaries. Throughout history, Italian design magazines have provided thorough coverage on the rise and fall of design in Italy and the rest of the world, and at times have offered breakthrough solutions to outstanding problems. By adapting effectively to the digital age, Designboom has been able to reach out to the new generation and share tradition and legacy within it. In the process, it has become a professional and systematic business entity. Designboom doesn't merely observe and document; it predicts the future and helps industries become successful – in its enviously ideal ways.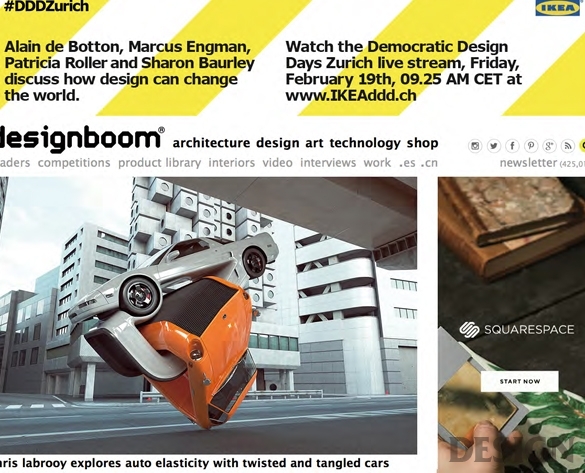 Yellow stands out as the dominant theme color on the site.