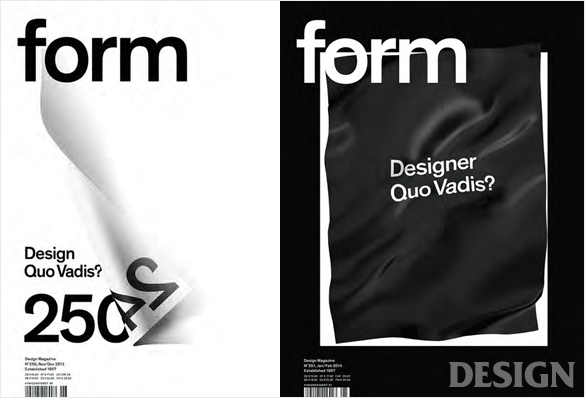 'Quo Vadis?' is a Latin term meaning 'Where are you going?.' form was smart to title its new issues with this simple but impactful phrase to bring every reader's attention to the subject it had addressed as a design magazine.

In 2011, the highly regarded U.S.-based design writer and critic Steven Heller provoked with readers with his contribution to the magazine The Atlantic under the title "The World's Best Design Magazine?" In his article, Heller wrote, "form magazine—an essential read for anyone who cares about product or graphic design—shows why print design publications are still better than websites." Founded as a wide-ranging culture magazine called "International Revue" in 1957, it dealt with not only musical and theatrical reviews, but also poems and black-and-white photography. For almost 60 years, form has been witness to and a recorder of trends in the design industry. Over that time, it has also expanded its scope to include graphic design and product design.

In 1999, the German magazine started publishing volumes in both German and English, establishing itself as the world's leading design magazine that represents European aesthetics and design philosophy. After the most recent global economic crisis—and coupled with the lightening-fast advent of content digitalization—the previous publisher was forced to file for bankruptcy in 2012. The new publisher of form moved the head office to Frankfurt and followed that up with a sweeping change in content. While numerous print-based magazines were scrambling to carry out major reforms to go online in step with the new mobile-based digital era, form's relaunch came into the limelight because it was raising the bar for print-based design magazines. As it turned out, the magazine was determined to buck the digital trend. Instead of moving away from ink and into bit strings, form delved deeper into print-based publication. The characteristic focus on a wide-range of cultural topics also remained intact. So what changes took place?

The changes were succinct and decisive. For years, form had been famous for covering a range of topics in various sections, but the new layout consisted of only three parts: Filter, Focus and Files. The first part (Filter) revolves around current events and trends, while the second part (Focus), as the name suggests, concentrates on one particular theme. The third section (Files) contains feature articles and examines design-related topics across a wide array of categories (e.g. Archive, Discourse, Material, Media and more). In general, the most conspicuous change had to do with a more integrated design perspective featuring more in-depth reviews. Soon after the relaunch, two volumes of new issues were released—"Design Quo Vadis?" and "Designers Quo Vadis?"—both of which hinted at the magazine's future direction. The volumes reviewed where design and designers came from and are headed towards while putting an end to what the design magazine had been pursuing till then and reflecting on what to prepare for in the future.

The editor-in-chief, Stephan Ott, provided insight into the magazine's goals when he said, "Our competitors are not online media. We adhere to a holistic approach to design, periodically providing readers with new insight. It is the privilege of a bimonthly publication that gives us a suitable timeframe in which to take a serious look at numerous topics." On its introduction page, form disclosed the themes for this year's volumes: Jan./Feb.'s theme was "Energy; the Mar./Apr.'s is Land of Design Lithuania; the May/June's is "Time for Designing"; the July/Aug.'s is "Human and Machine"; the Sep./Oct.'s is "Communication through Design"; and the Nov./Dec.'s is "Work." This well-thought-out plan delves into detailed information about each theme—something that would otherwise be impossible without a clear direction based on a far-sighted aim for the year. With its readership spanning 60 countries worldwide, form is steadfast to its core mission as a design magazine as it ceaselessly pushes ahead innovatively. Who would not wish success for this print-based magazine that is taking each confident step forward through the latest digital mobile trends and social media?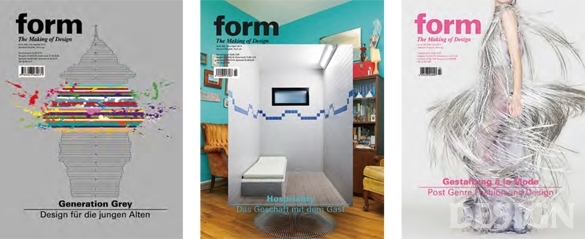 Before its relaunch, form cover designs had been visually and intuitively glamorous.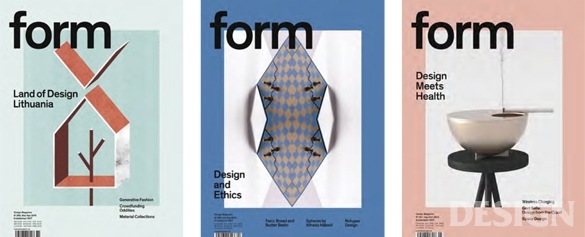 Since the relaunch, form cover designs have taken on a more holistic approach to the subject.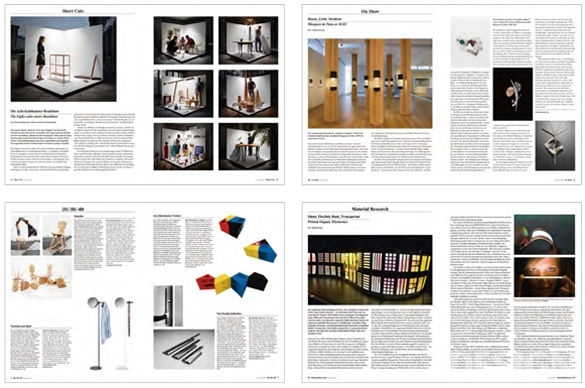 The inside layout of form before the relaunch used to feature colorful sections.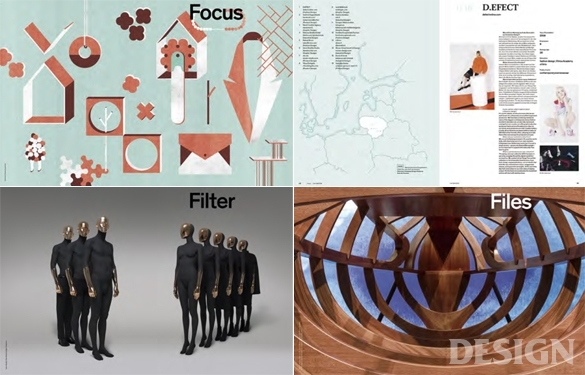 After the relaunch, the inside layout of form become simpler and featured three sections.


INTERVIEW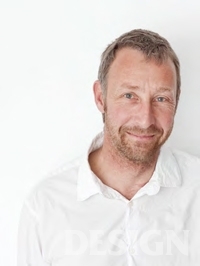 Stephen Ott was born in 1962. After having studied German, history, politics and theater, film and television production in graduate school, he became a freelance writer/editor and journalist. From 1999 to 2012, he then headed up the Press and Publication Department at the German Design Council. Since June 2012, he has been serving as the editor-in-chief of form.



"The simple truth is that only text allows you to examine a subject in greater depth."

In 2013, form's relaunch made big headlines. What motivated you to carry out this massive feat?
The magazine's previous publisher in Basel (Birkhäuser) was forced to file for bankruptcy in 2012. As a result, a new publisher, Peter Wesner, bought form. This also saw the magazine relocate to Frankfurt and a new editorial team take the reins. The sale of the magazine was a watershed moment and meant a new start regarding personnel, content and design. We wanted the relaunch to communicate clearly that fact, both conceptually and visually.
With a magazine almost 60 years old, frequent adaptation to changing circumstances is always going to be a feature of that history. Both in design and content, form had therefore already undergone frequent changes. The context was a sense that print products should have the confidence to demonstrate their particular strengths about digital media.
I think that one of your main concerns must have been how to relaunch successfully a magazine with nearly 60 years of renowned heritage to it.
It's a question of balancing the magazine's unique heritage with the need to be up to date. That's something you can do very successfully as long as you keep both in mind, that is, as long as you remember where you've come from and also where you want to go. form has always been and will always be a design magazine. The field of design has grown and repeatedly changed over the course of the past 50 years. Essentially, all we have done is follow this process of change. That has been the key ethos of form since the very beginning.
Who are your target readers? Has your target readership changed very much since the relaunch?
As previously mentioned, the magazine has evolved as a result of changes in design over the past few decades. Our target readership has evolved too, but it is still basically made up of designers, entrepreneurs with an affinity for design, and people with a general interest in design. What is particularly striking is the proportion of younger people among our readers, such as students and those just entering the workforce. That tells us we are doing something right.
These days, design magazines are focusing on specific fields like interiors and typography, for instance. However, form deals with all genres of design and across all borders. Is there any reason you've kept such a wide range of design subjects even after the relaunch?
We think it's important to take a holistic view of design. Subdividing it into individual disciplines might once have been legitimate, but we feel it's no longer appropriate. Nowadays, the different areas of design are merging, or at least overlapping. The development of a new product, be it analogue or digital, now involves various design disciplines that are all quite different and we want form to provide a forum for them all.
form is a bilingual magazine delivering all of its content in English and German. How did you decide to adopt and then maintain a bilingual format?
We now live in a global village, one in which there are thankfully still regional differences, but in which there is nonetheless growing interest in other cultures. The bilingual content offers us a great opportunity to present our magazine to a worldwide audience. A lot of thought went into the graphic design for our two-language format during our last relaunch. Since then, we have had the German and English copy side by side in the layout (rather than one after the other). Differences in length between the two mean this poses something of a design challenge, but I think we have dealt with that very well.
In this digital/mobile era, people are beginning to demand shorter text to read. Many media companies are already following this trend by adding more images and reducing the amount of text. Interestingly—and unlike other companies—form is heading in the opposite direction. Why are you focusing more on text than on images?
Yes, it's true that images and shorter text are becoming increasingly important in our visual world, and also that our approach deliberately goes against that. The simple truth is that only text allows you to examine a subject in greater depth. Such in-depth insight is fundamental to a specialist journal. That's why we don't see text-heavy content as burdensome, but as something gratifying. Interestingly, our young readers see it that way, too. There are still plenty of visual offerings to balance that out—and that number increases by the day.
In today's digital era, it's possible to get new design information 24/7 from pretty much anywhere in the world. To survive this era, magazines such as Wallpaper, Monocle and Lifestyle—even fashion and business magazines—have invaded the design field and made design issues their major topics. In your bid to differentiate yourself from these other magazines, what exactly is the raison d'êtrè at form as a design-oriented magazine?
The magazines you mention all cherry pick what they think are captivating subject areas, such as fashion and lifestyle. But in doing so, they are all missing a key aspect of design: its ability to shape what lies beyond superficial appearances. This aspect can only be recognized and communicated if, as we do, you take the aforementioned holistic view. As outlined above, I think we offer a good counterweight to the non-stop flow of information. We believe our magazine will only survive if it filters that information in a useful way.
Do you have a digital plan in place right now? Do you have any plans to create content solely for an online platform? We are in the process of developing a digital edition of the magazine. At the moment, we use "online dossiers" to supplement some of the print content. On top of that, we also publish news updates on our website.
In many ways, form might have the most borderless readers because you publish in English and German, two of the most spoken languages in the Western countries. Do you have a framework for how to cover such a huge and influential region like Asia?
Topics with a German or European focus are of interest to Asian and American readers. At the same time, we do intend to make the content we offer more international. In essence, though, we will always be a design magazine with European roots and a European focus. I think regional identities are still necessary, even in a globally interconnected world. Individuality is something we should work to preserve and strengthen. That goes both for people and for the media.