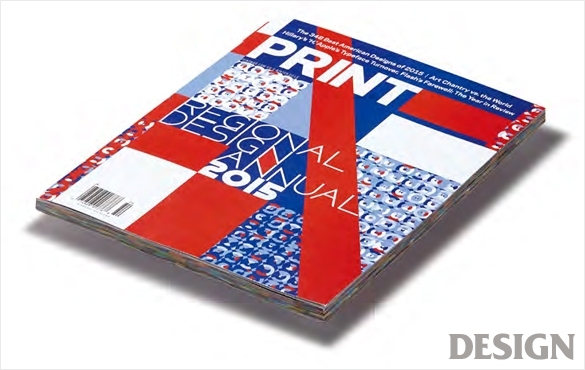 "seeks to build a dialogue about design by detailing the intersections of art and culture. "


< Print >
1940, Ohio, USA

At the end of the 20th century, graphic design saw its influence significantly fall due to the diversification of media and the steep rise in digitalization, which poses a threat to the very existence of graphic design. All of the changes that graphic design has undergone since 1940 have been tracked by Print (www.printmag.com). Its parent company, F+W, also publishes another graphic magazine called How. But it's Print's collaborative efforts with famous design writers like Steven Heller on creating high-end content that set the magazine apart from the pack. The American design critic has been writing for Print since the 1970s and now has his column every day called "Daily Heller."

The editorial team at Print has a great deal of confidence in their ability to deliver content that gives readers the chance to take a deeper look at subject matter through both carefully chosen images and impactful words. Their desire for quality content is the driving force behind the steady publication of this bi-monthly magazine, now in its 76th year, and has allowed it to buck the digitalization trend. Furthermore, Print has been faithfully serving its role as witness to the history of the graphic design industry in the U.S. for the last 35 years by updating its national graphic design trend archive through its Regional Design Annual, the industry's most prestigious and well-respected American design competition.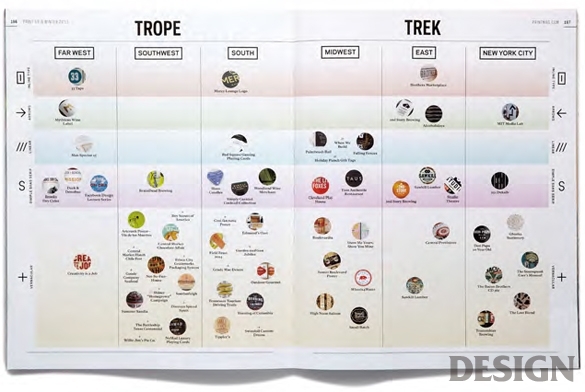 Inside the U.S. Regional Design Annual volume


"We don't really view the digital future as a threat. Rather, it's an evolution of the design world and printed form." - Print editor-in-chief Zachary Petit
Since its establishment in 1940, Print has developed alongside the American graphic design industry. How have you changed and what features have kept Print unique through the years?
The nice thing about Print is that despite so many industries and technological changes over the years, our obsession has remained on the core subject of design, and we've done our best to keep pace with it and do the conversation justice. Even now, Print covers subjects like interactive design, despite the title of our magazine. Our job is not to dictate the direction the industry heads in, but rather to provide insightful commentary and criticism on it, whatever form it might take. Interestingly, Print was set in metal type until 1973.
It was a bit of a shock to see you had only two people, an editor-in-chief and an art director, on the website's staff profile list. Can you describe your typical work schedule, including editorial meetings, framing the layout of content, and how you choose articles?
(Laughs) That's a fact that often shocks a lot of people. We also have a creative and editorial director, design guru Debbie Millman, who runs the popular "Design Matters" podcast. Every year, we decide on themes for the coming year in the summertime. Once those are locked in, we'll brainstorm what might make up the best articles for the next issue. After that, I'll work with writers on different ideas, and I'll bring some to the table for us to discuss. Once we have the articles we'd like to run selected; I work with the writers to get the copy, edit it, and get it off to design. From there, we'll fact-check and do two proofs of everything. I usually write an article or two for every issue. At some point in the process, Debbie and Adam Ladd (the art director) will work on visual ideas for the cover. We have certain methods of working, but our process is never really set in stone, and we adapt quickly to what works best and in a very fluid manner.
Your sister magazine, How, and Print now co-operate when it comes to certain events. How do you deal with this cooperation between the magazines? What is the major difference between them?
I've described the difference before like this: How is like an extension of the brilliant HOW Design Live conference, and Print is more like what you would talk about at the bar after the conference—all those things graphic designers geek out on. How was created as a graphic design how-to extension of Print in the 1980s, and it held that identity until last year when it was redesigned to become more of a lifestyle magazine for graphic designers and something akin to the HOW Design Live conference. Though they both deal with graphic design, they are very distinct publications. How celebrates the design lifestyle and provides inspiration and advice for designers—designer to designer—while Print plays more of an outside observer role and often focuses more on long-form essays about different subjects in design and design history.
You've been running the Regional Design Annual award for 35 years. What was the motivation behind establishing this award? What does it mean to Print?
Martin Fox was the editor of Print for 40 years, and the Regional Design Annual was his brainchild. Graphic design in the United States was very intensely focused on New York work when the RDA began (before the dawn of the Internet, which democratized design), and Fox was interested in seeing what regional characteristics and styles dominated in other parts of the country. He has told me before that his goal was to expand design so that it wasn't only focused on New York City and to spotlight all the brilliant work from all areas of our very large country.
With its relatively long history, Print must have a great amount of design archive material. What's your digitalization strategy?
We indeed have a very extensive archive (which is fascinating to browse!), and I feature finds from the archives in our "Into the Archives" column every issue. We currently have not made the archive available to the public, though we are now looking at different avenues to do so. We would love to open it up to the design community; we just need to figure out the best way to do it full justice. We don't really view the digital future as a threat. Rather, it's an evolution of the design world and printed form, and we hope and intend to be right there with it, covering it in any capacity we can.
We're living in an era when information can be found in a variety of different sources, not just through print media. Does Print have a strategy it is pursuing to remain successful and relevant in the future?
For the general discussion of the health of the printed medium, my instinct is that it will still remain viable if we keep making products that are worthy of being printed. I think subject matter also plays a role. General interest magazines have taken a large hit because of the Internet, where people can easily get news and the same information. Niche subject matter, though, is healthier in print because it tends to have a very dedicated following. I also strongly believe that the notion of curation—handpicking articles for an issue, setting an issue to a specific theme, placing everything together with a strong rhythm and flow—is not as easily achieved online as it is in a printed publication. Certain readers recognize that fact and believe in the quality. I think perhaps the key to the magazine of the future is to produce indeed something collectible; figure out the formula of how it cannot be replicated online as simple as copying and pasting text into a content management system (CMS). As for our end goal, it's just to keep doing what we do. As long as they keep letting us do it, we'll keep doing it.