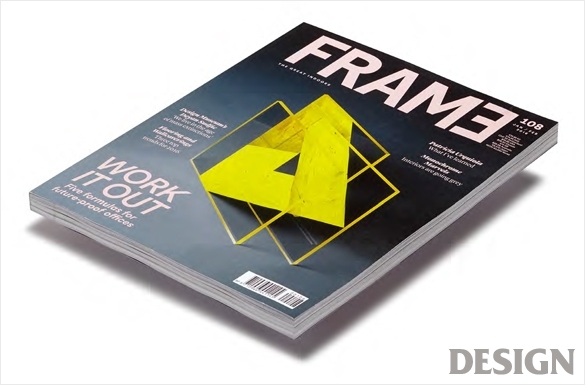 Putting interior design on the map as a creative profession that's on a par with product design and architecture

< FRAME >
Amsterdam, Netherlands, 1997
Characterized by the reverse letter E in its name, Frame is an Amsterdam-based magazine devoted to interior design, but which also encompasses architecture, product design, and exhibition design. The flagship publication of Frame Publishers, the magazine was first printed in 1997 and its six bi-monthly issues are now sold in 77 countries worldwide. The magazine is also licensed in Korea, China, and Turkey. The first issue of Frame Korea was the September/October issue in 2012. Frame magazine interacts with readers and designers on the subject of interior design. Since 2007, it has also been giving out an interior design award called The Great Indoors Award, offering prizes to top works in four categories (commercial, leisure, official spaces, public spaces) every other year. With high-profile judges invited from the design industry and competitive entries coming from around the world, the award is now one of the most prestigious in the interior design community.

The Frame Moooi Award in 2012 and 2013 also made headlines. In collaboration with the Dutch furniture brand Moooi, the award panel invited noted designer Philippe Starck for its 2012 competition and Jana Scholze, curator of London's Victoria & Albert Museum, for its 2013 competition as its judges. The ten finalists were invited to the Milan Furniture Fair as exhibitors, and the winner of the grand prize of €25,000 was announced at a cocktail party on the last day of the fair. Despite its success over those two years, the Frame Moooi Award came to a close in 2013. In 2014 and 2015, Frame worked with i29, a famous design studio in the Netherlands, to launch the Frame pop-up store project, which went on to win a prize at the European Interior Design Awards. In addition, Frame Publishers runs an architecture-focused magazine called Mark and an arts/culture magazine called Elephant, the two of which complete a line of creative magazines that cover a wide range of design.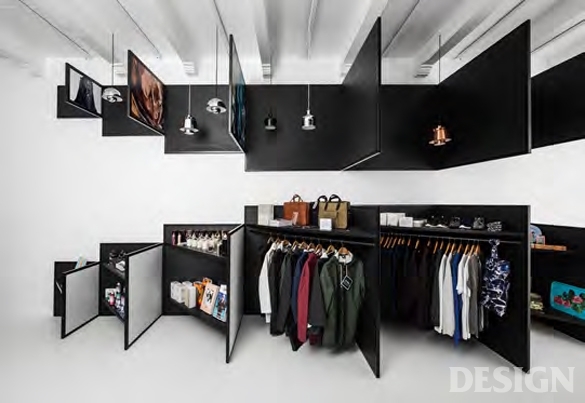 Designed by the Dutch design studio i20, this second Frame pop-up store opened in Amsterdam in 2015. It was later nominated for an FX Design Award in the retail space category.


"All our publications cater to one and the same audience: creators."
Frame editor-in-chief Robert Thiemann
Since its launch in 1997, what has changed most significantly and what has remained the same at Frame magazine?
The world has changed drastically. Most of the changes within the publishing business boil down to one word: Internet. Thanks to blogs, news sites, and special-interest platforms, news spreads much faster, and the number of news sources has increased dramatically. Add the rise of social media and you'll see that the media landscape is totally different than it was some 20 years ago. It's faster, more diverse, more personal, and more democratic. People used to consume news via printed publications, radio, and broadcast news. Now they feed themselves whenever and wherever through a very broad range of channels, most of them mobile. We at Frame have had to respond to these changes, and it wasn't easy. What stayed the same? We still make print magazines and books, and they're still profitable.
After Frame, you launched two other high-end magazines, Mark and Elephant, at a critical juncture when sales of print publications were not exactly booming. You're also expanding into licensed editions now. What has pushed you in this direction?
The motivation behind these moves is to develop new market segments of the creative industry. All our publications cater to one and the same audience: creators. We seem to know how to reach them. We use the same distribution channels and the same mode of operation.
You tend to focus on commercial spaces rather than on actual living spaces. Where are you heading regarding editorial design?
Frame empowers spatial design excellence. We inspire and connect designers, makers, and users in the interior design industry to help them create outstanding spaces. We specialize in retail, hospitality, and workplaces. That said, we have a special interest in the three constituents of spatial design: form, material, and colour. Frame's editorial design should be sophisticatedly bold and expressive, contemporary and clear. It should be stylish, but in a distinctively new way.
How do you run The Great Indoors Award? How did you begin taking part in operating the event and what exactly is your role in it?
We run The Great Indoors Award with two cultural institutions, Marres and Bureau Europa, one of which is a Dutch non-profit cultural organization and the other an independent cultural organization that spun off from the Netherlands Architecture Institute. We wanted to give interior designers global recognition for their work and an award is a good instrument to achieve this. We organize the award every two years. We call for entries, ask designers to submit, compile the jury, organize an award ceremony, and publish the nominees and winners in four categories. We feel the award has been embraced by the interior design community.
You're very active online through various platforms. From Facebook to your newsletter, you've got seven social media icons on your website. What was the process and changes you had to go through to transform into the digital era?
To be honest, the biggest online challenge lies in front of us. Although we have a relatively strong digital presence, we feel we should rethink our digital strategy. Today it's not enough to publish news online; you'll just be one of many. Instead, we want to offer a service, a tool to connect the stakeholders in our community. We're currently developing it.
Websites usually have a Contact Us option, but you also have a Meet Us tab, which is quite distinct. It feels like you're showing how much you care about meeting your readers person to person during pop-up events to promote print magazines. How do you interact with readers?
If everything is becoming digital, the need for something physical will grow. We feel it's important to reach out to our readership, to give the magazine a face and an environment that people can visit and relate to. That's why we've experimented with an inspirational event called 90 Minutes of Frame, which was a live version of the magazine that we organized six times in Amsterdam. We also experimented with pop-up shops in Amsterdam. These have not only won prizes but also received a lot of publicity. Retail is very difficult, however, and not something for us to continue with.
Where do you see Frame in 10 years?
I'm convinced that paper publications will remain our flagship for the next decade. In the end, there's nothing that can replace leafing through a well-designed, inspiring magazine. Next to that, online will become even more important for us than it is now. Furthermore, we will have to create events like trend briefings and exhibitions. Last but not least, we will focus on custom publishing and consultancy.