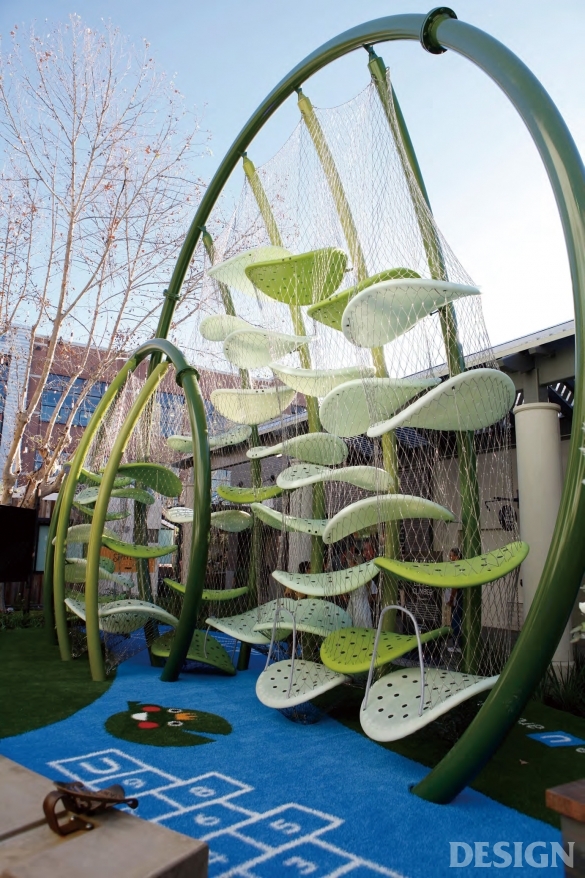 A Luckey Climber at the Village at Westfield Topanga, Los Angeles.
Two giant hoops parallel with shell-shaped panels dangling from each of them.
Founded in 1985, Luckey, LLC (luckeyclimbers.com) is a design-build firm specializing in creating unique and imaginative climbing structures that allow children to follow their instinct of climbing. Made of bent plywood platform that is suspended by steel pipes and cables covered with net, the structure may look simple at first look. However, not a single piece has the same form, making it difficult to infer what the structure is for. Many playgrounds consist of fancy castle looks or cozy huts—all built based on a grown-up's notion of what kids love—but Luckey doesn't subscribe to this notion.

At Luckey, the company thinks that kids actually don't care about what the play structure looks like. Instead, Luckey Climbers encourage physical activity and aid in developing critical gross motor skills. Kids can also explore the structure while experiencing the surrounding area to develop their creativity. If parents are concerned about the height of the structure, their anxiety is ungrounded. The company goes to great lengths to ensure safety and applies design principals that have made its climbers exceptionally safe with a spotless safety record since the foundation of the company. In fact, all Luckey Climbers prevent kids from falling any more than 50 cm at most. In addition, Luckey LLC believes that children have the innate ability to avoid danger by studying how strong and safe the structure is for their own safety.


Luckey Climbers are installed indoors and outdoors of children-oriented museums and science centers around the world, from European countries such as Switzerland and Ireland to Asian countries like Singapore, Indonesia and Korea, as well as the U.S. All Luckey Climber designs are customized to the surroundings and customer needs.

For instance, the Infinity Climber at the Liberty Science Center that the company created in 2014 is suspended in the air. The superstructure has many "looks," with no preset paths or patterns, allowing children to choose their own routes. As the climber is infinitely variable, all the pathways become redundant. There are no duplicates or right or wrong, so there is no correct, easy or hard way in or out. The client, Liberty Science Center in this case, was extremely satisfied with the Infinity Climber, which they said embodies Heisenberg's uncertainty principle. Another impressive structure sits on the edge of Las Vegas. Composed of four hoops framing the surrounding mountains, the Luckey Climber pays homage to the rich colors of the American West, artistically embracing the nearby landscape like a sculpture.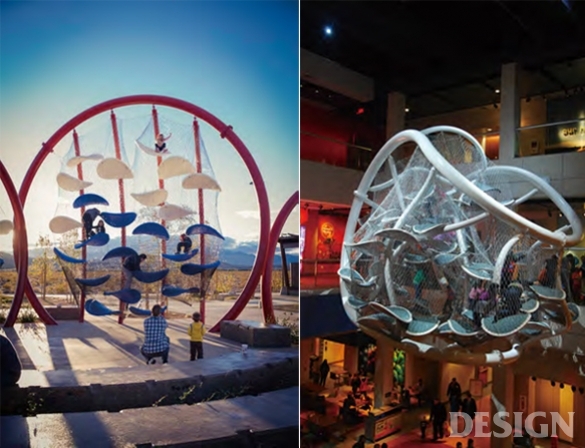 (L) Mountain Edge Park, Las Vegas. (R) Liberty Science Center.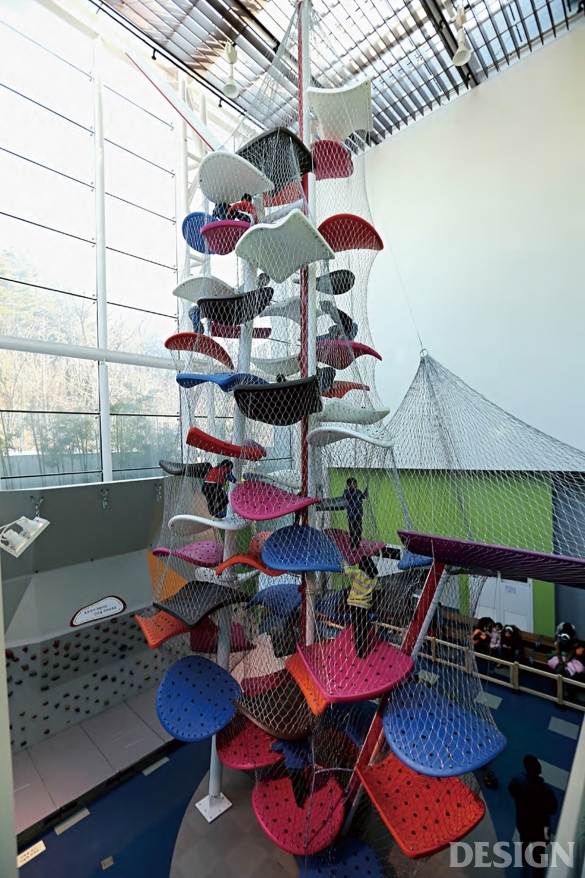 Gyeonggi Children's Museum, Korea.

Back in 1985, founder Thomas Luckey thought that children were the only clients who could appreciate his fantastic ideas and passion to create strange but beautiful things, which is why he created the first Luckey Climber. The goal was to brush off the adult notion of the ordinary and to be a source of wonder and delight for people of all ages. For the past 30 years, Luckey Climbers have accomplished exactly this purpose: a playground for kids who could create and experience their own worlds.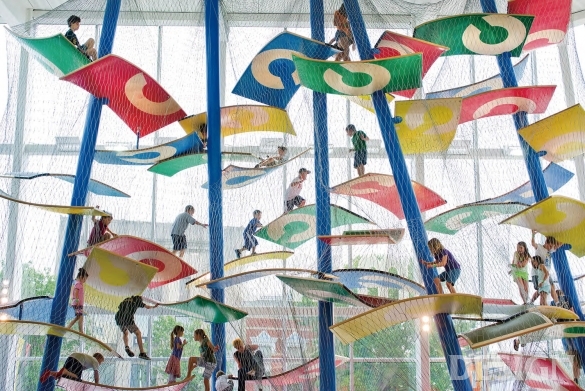 Columbus Commons, Ohio.
Interview
President, Luckey Climbers
Spencer Luckey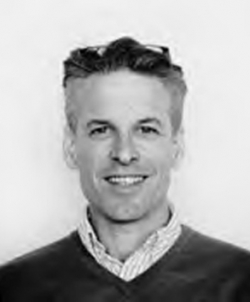 " Both children and adult
can play with Luckey Climbers
any way they want. "
Would you tell us a bit about the process of climber fabrication?
Our 12 employees design and fabricate climbers at our studio in New Haven, Connecticut. Designer(s) usually stay in the field to develop their design ideas in consideration of how children will react to Luckey Climbers as well as the harmony between our products and the surroundings of the installation site. Our studio is 1,100 m² and equipped with a variety of tools and facilities for fabrication, including panel cutters that can perfectly cut minute details to enable such elaborate curves in wood panels. I usually take responsibility for the initial stage of projects, at which time the designer(s) and engineers collaborate to design and visualize the prototypes.
What is the most important design element of your climbers?
Safety and open-endedness. To be honest, I think Luckey Climbers are much safer than stairs. Parents think children are frightened of heights. On the contrary, kids enjoy adventure and taking risks when they're free to do so. They find a sense of achievement in gaining control themselves when they feel at risk. To better understand what I mean with "open-endedness," think of Lego and playing in the sand, where you can play with no oppression and without a pre-defined sense of closure. Creativity thrives when you defy a guide. That's why we refuse to take guidelines from our clients on any particular theme. Kids should be able to use their intuition when playing as soon as they see our climbers. Rules just put children off from playing.
As kids are the end users, I assume the choice of materials must be another important factor to consider.
Luckey Climbers use only strong, high-quality materials. Children have the intuition to detect the vulnerability of our structures. Some of our climbers are installed in places that see upwards of 800,000 annual visitors. Past hardships have given us lessons to learn from. Materials are a critical factor to the experience of playing. Therefore, we take extra care when selecting materials from the user's perspective as well as the design perspective of the structures. Reviewing our past portfolio, I realized my design ideas may have been too obsessed with masculinity in the past. Perhaps there are other playground structures that are the same. As a result, I want to balance it all out with a certain feminine sensibility. That's why I asked my wife to color and stain the entire structure for the Lao Niu Children's Discovery Center in Beijing. I also have some more projects that I'd like to add a more feminine sense of color and materials to in the future.
What is the ultimate goal of design for Luckey Climbers?
We don't want to adhere to a particular style or design. That's why we always ask ourselves, "Do you think it'd be cool if…?" That's why my favorite climber is always the next new one and I'm always ready to fall for the new one again and again. I believe design is no different for kids than it is for adults. I always think of the users when I design a new structure, but I try to make my concerns and references as subtle as possible. At Luckey Climbers we pursue design that's open to all users of all ages. They can enjoy our structures in their own unique way. My first concern when designing a new structure is if I think it's fun. I guess in that way I become the first customer, and if I find it fun that's the best way to satisfy our customers.