Founded in Amsterdam in 1997, the design studio Carve (http://www.carve.nl/en) designed a public square in the heart of Hoofddorp, a town in the Netherlands, as the first project in the municipality's redevelopment plan. After listening to what local young people had to say, Carve installed a concrete area where people could skateboard in a city square that for years wasn't visited by anyone but alcoholics. The Carve team believed in the spontaneity of youth and other groups of open-minded people in developing ways to best utilize the facility. What they've created is the perfect area for four-year-old toddlers to ride their bikes on Sunday mornings, while older children can use it for other purposes equally as fun. This belief turned out to be well-grounded and earned Carve a second place finish in a local architecture prize, the Haarlemmermeer, in 2008. The jury praised the way the riding facility contributed to a lively square, saying, "A once-deserted city square is now a lively venue for various activities."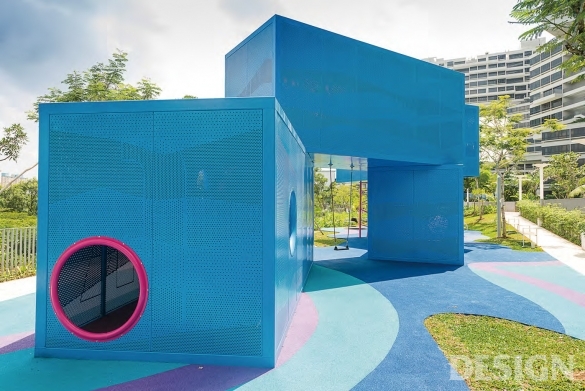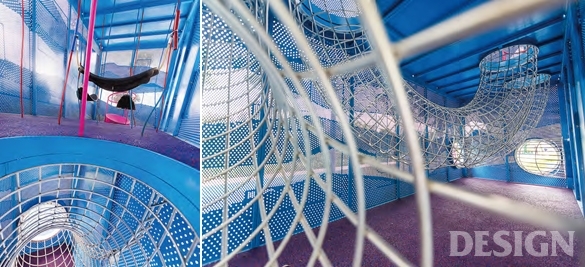 Consisting of four large containers stacked on top of each other that can be climbed into through openings, the Interlace's perforated facades allow for nice shade and a continuous breeze to blow through, creating a cool climate inside the boxes. ⓒ Playpoint (Tucky's Photography)
Since then, Carve has been carrying out a number of projects for clients in Europe and Asia. Their focus is on unleashing the infinite potential of children through playing and under the belief that a playground is an integral component in designing public places. Even designs for specific purposes and functions should always be open to what users of all ages themselves want to do there.
Completed in 2014, the Zorlu Center sits on a vast site spanning 1600 m² in Istanbul. Consisting of several different zones, the playground changes its appearance as you move through it. The entrance features bright colors, gentle hills to climb on, and a slide for toddlers to explore. As you move towards the heart of the playground, the hills turn into valleys and the area is gradually transformed into a more adventurous, natural looking play environment. It's an entire hidden world to be explored, including a bridge, a giant netting structure, and a huge family slide. This is a playground in which children are able to completely dive into an imaginative world by hanging and sliding from all the playground equipment, which comes in a range of metaphysical shapes.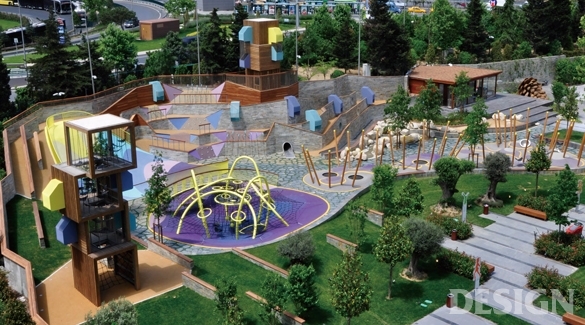 Zorlu Center's unique design and colors allow children to delve into a world of their own making and imagination ⓒ Courtesy Zorlu Center by Oguz Meric
Installed inside an apartment complex in Singapore in 2013, the Interlace playground is a mini-version of the surrounding residences. Four large containers are stacked on top of each other—each one rotated just like the residential backdrop. Inside the containers, various crawling, climbing and sliding elements create a maze-like structure with a variety of adventurous routes. The closed façade gives children the thrill of being invisible, while the perforations allow one to look both inside and outside, unleashing a child's imagination. Carve may be famous for its innovative designs, but their purpose is not simply to capture your attention. Limitations like space, surroundings, and location all play into their design policies when creating one-of-a-kind playgrounds.


Installed as part of a new city development just outside the ring road of Amsterdam in 2013, the Laan van Spartaan was a challenge for the design studio as they had to squeeze the playground in by a bike path and a lowered road. In order to fit it in at such a narrow site, the play equipment had to be taller than usual. Carve divided the site into three zones: an entrance area was designed specifically for younger children, with play houses and hammocks hung between wooden poles. The remote area was the most challenging play zone and is reserved for older children due to its climbing garland that curls up more than five meters in height. The snail shell-shaped winding slides hanging in the air are sure to evoke one's curiosity, allowing children to dare and discover throughout the play space.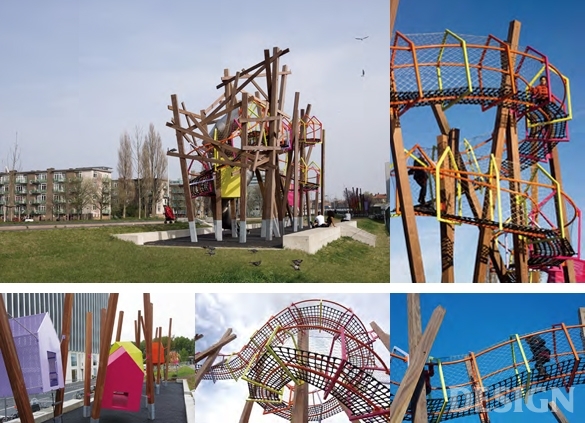 The long, thin layout at Laan van Spartaan has playing structures rise high into a climbing structure.
ⓒ Carve (Marleen Beek)
To name but a few more of Carve's impressive play objects featuring more than simply unlimited possibilities through their functionality, the Wall-holla is a multifunctional, modular play structure installed as part of a schoolyard. Then there's the Osdorp Oever, an elevated climbing parkour structure placed between trees on four different levels. These objects are all open to new usages beyond the designers' original intention—and the possibilities these create serve the public interest. That's why Carve's playground designs have more significance than mere physical beauty and innovation. They're a form of play design for the greater good as a whole.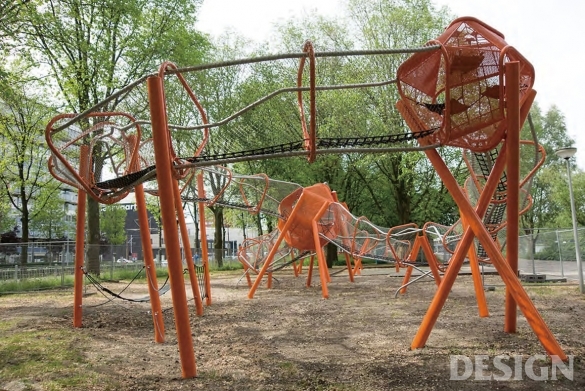 Osdorp Oever is an elevated four-level climbing parkour structure for children of different ages.
Interview
Founder, Design Director
Elger Blitz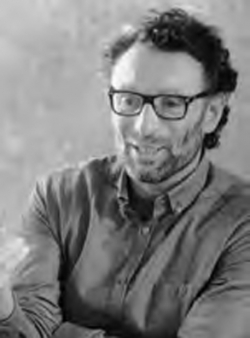 " Building spaces for children is
building spaces for all. "
Would you briefly introduce Carve to us? What made you start designing playgrounds?
I had a chance to participate in a playground design project in the early 1990s and have been involved in public space-building projects for more than 25 years now. Carve is a design & engineering studio that I founded along with a civil engineer, Mark van der Eng, in 1997. We design for all sorts of projects, from industrial designs to civil engineering and landscaping. We take a different approach to designing urban spaces for clients, whether it's municipalities, architects, landscape architects, or play equipment manufacturers.
Can you tell us about your team and work process?
Our creative team consists of one architect, two landscape architects, two product designers, and one urban designer, while our technical team has two manufacturing engineers, one landscape engineer, one civil engineer, and one intern manufacturing engineer. Our work process isn't very different from that of other design companies. We decide on the concept first and create the draft before finalizing our designs. Most aspects of every project are done in-house. Our creative engineers and technically versed designers collaborate to thoroughly prepare for the technical part of our concepts and to scrutinize the process of concept visualization. Engineers at other design firms are usually involved in nothing more than the technical trouble-shooting stages and from a limited point of view, but Carve's engineers take a more creative approach just like the designers do. At Carve, we differentiate our play equipment by the age of the children.
Your designs have different zones, but there aren't any borders between these zones. What's your secret?
From the planning stage, we conceive of the functionality of the playing itself in consideration of the users—both the intended and unexpected groups. We verify what's possible by checking the overlaps of ages and user groups and this step backs up our conception. Although we take into account particular age groups and the functionality of each play object, we also ensure that they are open to new ways of usage by unexpected users. The common ground between different groups and ages of children raises the chances of playing, while also increasing the attractiveness of the space as a whole. Consequently, we prefer more universal objects, a more play-friendly environment, and greater multifunctional involvement with certain instructive objects that kids typically play with. Plus, we always take extra care in selecting materials for our products, as they're for kids.

What factors do you take into account when designing?
Most of our public area projects are outdoor installations. Therefore, its ability to endure the elements and its manageability are the most important criteria in our material selection. Still, we make use of materials in novel ways, or even develop some by ourselves when we can't find the right ones from traditional materials. The green bricks we designed for the schoolyard is a good example.
What is your top priority when designing playgrounds?
It's hard to pick only one, but I think it's important to defy conventional thoughts or limitations and to surprise people—even yourself.
You've been devoting yourself to designing public spaces for kids for years, so you must have your own concerns. What are they?
Most facilities serve the needs of clients of a particular age group (usually adults). Even furniture follows a set of directions, with limited assembly and a preset way of using the item. Look at an auditorium, for example. It's only a place for sitting on a designated chair to watch a performance for adults, but it can be a playground for kids with all its different stage levels—not to mention the audience seats and the steep stairs—provided, of course, that the space is authorized for such usage and with the appropriate preventive safety measures in place. Imagine a giant slide planted in an auditorium. It would be for kids and adults alike. It would bring a different kind of joy to everyone who was there because it wouldn't be clear who the performers were and who the audience members were. In just this way, it would become a totally different space eliciting a completely different kind of joy.
What for you is your ideal playground?
I'd like to follow the same path as Aldo van Eyck, a Dutch urban planner and architect from the 20th century who built the very first real playgrounds, and carry on with his legacy. He motivated local communities to take the lead in expanding different spaces for kids to play. As a result of his efforts, numerous playgrounds have been rebuilt to date. Playing is an exciting activity that can develop physical health as well as social skills, so there shouldn't be any age limit to the act of playing. Ultimately, somewhere to play provides a venue for people of all ages and groups to come together and create their own communities.