From a 4.8-meter-long giant spider and sunken ship built into a curved house to a 12-meter-long blue whale, it's easy to find weird-looking playgrounds across Northern European cities like Copenhagen and Stockholm. These playgrounds invite both children and adults alike to have fun and were designed by Monstrum (http://www.monstrum.dk/en), a Copenhagen-based design studio. Monstrum was founded in 2003 by Ole Barslund Nielsen and Christian Jensen after the two met while building set designs for theaters. Taking full advantage of their combined work experience, they created thematic playgrounds with an aesthetic sense that was fascinating and inspiring. For example, one playground in Copenhagen has a giant head in which kids can climb up or go inside of to play in the sand as they indulge in an imaginary world. There are no instructions for how anyone should play; children are free to use their own imagination here.


At another playground in Stockholm, there are two giant owls, both 5.5 meters tall, and a large cluster of oversized mushrooms. The owls are slides, but kids can also crawl around or hang from these objects according to their own imaginary narratives. The strange and surreal space is reminiscent of a stage meant to inspire kids and pique their imagination or create made-up stories all their own. In this way, Monstrum's playgrounds offer a new way of playing by creating unprecedented contexts and relationships.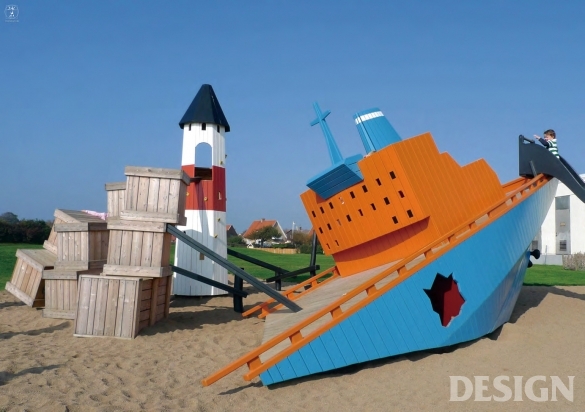 The Cargo Ship playground in H¨ogan¨as of Sweden was based on the concept of a wreck.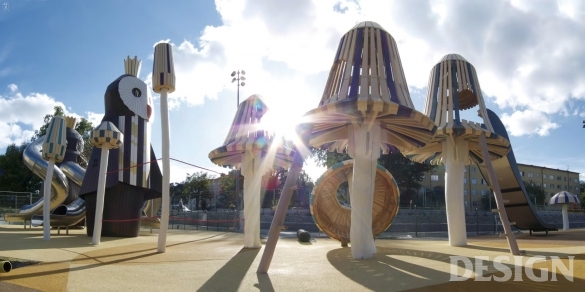 Kristinebergs Slottspark is a park in Stockholm. The giant owls and huge mushrooms look like something out of a fairytale.
Monstrum's team designs and manufactures all their products with their own hands at their workshop in Copenhagen. The manufacturing process starts from the basic stage of cutting boards and pinching bolts and nuts, almost like building Lego blocks, to create castles and enormous airplanes that kids can play inside and outside of as they choose. They use larch and white birch for materials because these woods are soft and warm. Most importantly, however, they're safe materials. All Monstrum products are adequately tested for safety according to the European Standards for Playground Equipment EN1176 certificate, but the design firm also suggests that clients have their products verified by independent play inspectors after installation. This clearly demonstrates how much Monstrum is dedicated to safety control when it comes to their products.
CEO and Chief Designer Ole Barslund Nielsen has even completed a play inspector training course. Still, safety by the rules is one thing; kids playing in a playground is something else altogether. At Monstrum, designers seem to love playgrounds that appear dangerous but are completely safe because they believe kids should be allowed to experience a sense of danger and feel thrilled by taking a chance, but always land on their two feet at the end.
The Cargo Ship project in Sweden is a case in point. Everything seems to be in great chaos, with a huge sunken cargo ship and scattered cargo everywhere. Kids move around a dangerous route between loose boxes and driftwood. Inside the hull, children experience dangerous adventures while balancing on debris. These elements stimulate imagination in young minds.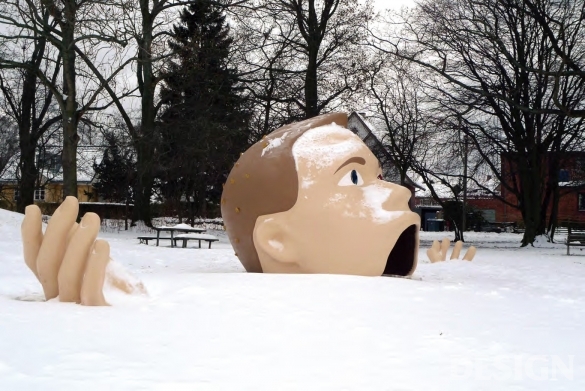 A play head where kids are free to explore the huge mouth inside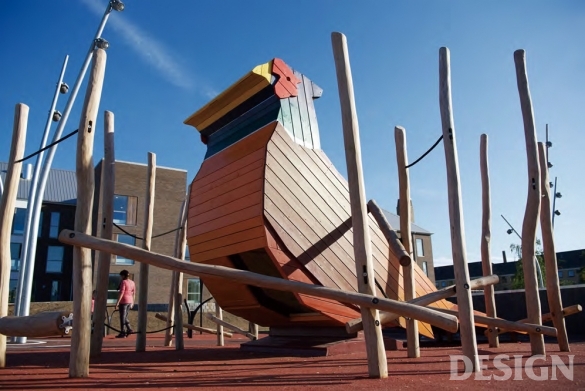 Between the two 2 to 3-meter-long reeds stands a big, beautiful pheasant.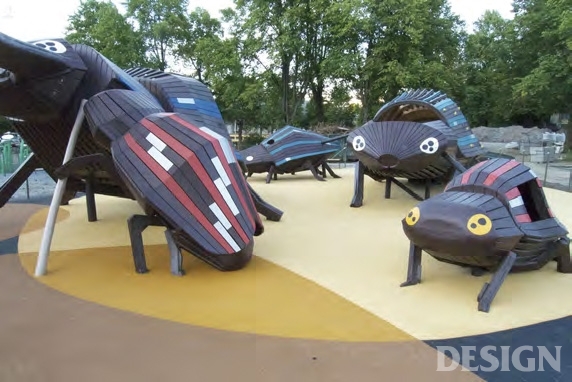 These playground structures are covered by beautiful patterns and colors but look like real beetles. The largest beetle is nearly nine meters long, giving even those in a wheelchair a chance to go inside it.
The French sociologist Roger Caillois once defined play as "an activity with the characteristics of being 'free', 'separate', 'uncertain', 'unproductive', 'rule-bound', and/or 'make-believe'." Monstrum's playgrounds delve into the imaginative element to let children make free choices to play and enjoy. Their playgrounds are unique, not only in their shapes, but in the way that they allow children to play creatively and dare to take risks.
Interview
CEO & Chief Designer, Monstrum
Ole Barslund Nielsen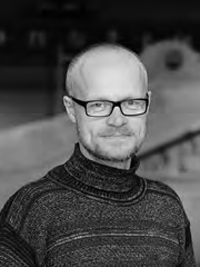 " Playgrounds are the composite art of
sculptures, architecture, set design,
crafts and education. "
What made you devote yourself professionally as a designer to playground objects?
The idea for the company occurred to me when the kindergarten where my then-five-year-old son's kindergarten needed a new playground and I was one of the parents asked to select the playground equipment. As someone who'd been a theater set designer, I realized that for the proposed budget I could make something that resembled theater scenography and provide better playing opportunities than a traditional playground. I asked a friend, the designer Christian Jensen, for help and that partnership became the foundation for Monstrum.
Monstrum's playground object designs are very creative. Where do you get the inspiration for the themes and shapes?
It's all about stories. They should inspire kids to play. Our playground designs are distinguishable because we always try to make sure our products fit well in the surrounding landscape as a sculpture or an installation work in an urban area. Their fascinating looks should be inviting to both children and adults, evoking curiosity in the stories behind the structures. We want our products to become local landmarks, and to have people saying things like, "Meet me in front of the Parrot." Our main clients are municipalities, landscape architects, certain institutions, museums and housing co-ops. Sometimes our clients already have very good ideas. We mostly develop the concepts and stories for the design.
What is the most important thing to consider when designing a playground?
Children are always growing. As they grow physically, their ways of playing also develop. Therefore, our products should serve different needs for different age groups. For instance, infants and toddlers need lower-level challenges, such as hopping on stepping stones or stacking blocks, while older children need greater challenges that require physical abilities like speed and strength. As a result, it's important to ensure that our products can gradually develop different challenges—from easier to harder and from closer to farther—to instill a sense of accomplishment in children.
For you, what is an ideal playground?
The prime purpose of a playground lies in allowing children to face various physical challenges. Kids should be inspired to constantly move and try new ways of playing. At the same time, safety is the uncompromising value—no matter what. In reality, challenges and safety don't go together, but they are compatible at Monstrum. Our playgrounds may look dangerous, but are perfectly safe.