Unidentified Playgrounds
Free PlayTM (freeplay.us.com)

The MazeTM consists of blue cubes with round cutouts that are a labyrinth to explore, whether on your own or with friends, while the Corn FieldTM is comprised of a field of soft two-meter-high stalks standing on a wild plain. Seemingly more like an artistic installation than a playground, these structures were created by a design studio called Free PlayTM.
A father of two daughters, the founder and president, Dan Schreibman, noticed the limitations of standardized playgrounds and observed that his daughters were much more engaged when playing in nature or in unstructured settings where they were free to explore. Identifying the need for a different kind of play experience, Schreibman worked with New York-based firm LTL Architects to provide children with the freedom to play as they choose. No swings, no slides. The unidentified structures make children try and figure out how to play on their own, helping them develop the ability to think more creatively.
POD Playground: Inspired by nature
TCL (Taylor Cullity Lethlean) (www.tcl.net.au)

ⓒ TCL
Designed by Taylor Cullity Lethlean, which is famous for landscaping and architecture that fit in seamlessly with the natural environment of Australia, the POD Playground was inspired by the natural objects of an arboretum, like oak forests and banksia cones. This is a play space with giant acorns floating in the sky, enormous banksia cones, tubes that resonate with the sound of falling raindrops and wind-bells, as well as a net bridge that connects the playground beautifully with the surrounding natural landscape. This playground symbolizes how the interpretation of surroundings can turn a plain playground into a place to learn about nature. (www.nationalarboretum.act.gov.au)

The Port Adelaide Renewal project turned industrial buildings into a playground
Studio Aspect (www.aspect.net.au)

ⓒ DonBrice_HR

The design studio Aspect turned this historic flour mill site in Port Adelaide, Australia into a playground that as of 2014 has been attracting children, adults and tourists. Unlike other traditional urban redevelopment design projects, this innovative new play space was themed around the site's flour mill history. The old mill and rail line have been retained and celebrated in their original state, flanked by a yellow-piped jungle gym, swings and monkey bars, with seaside trails and trekking lines that lead to hiking roads added for good measure. The tourist guideboards describing the history behind the flour mills and the port's important role as an export hub have attracted numerous tourists, winning it the 2015 Good Design Awards' Architectural Design Prize.
Swarovski's Crystal World Play Tower
Snøhetta Design Studio (snohetta.com)


Swarovski hired the Norwegian design firm Snøhetta to add a play tower to the south of their brand theme park. In celebration of its 150th anniversary, Swarovski planed this visitor experience for children, the patterns and prints on the crystalline façades being inspired by the company's one-and-a-half-century history. Inside the four-story tower is a 14-meter-tall net where kids can climb up and down from the ground floor to the top floor—and only by the net. Each floor has trampolines, swings, slides and other play structures for kids to have fun along the way.
Kristallwelten.swarovski.com
Harmonic Motion: An artistic playground
Toshiko Horiuchi MacAdam (netplayworks.com)

The famous textile designer Toshiko Horiuchi MacAdam was fascinated the day she watched her work come to life as a group of children climbed up her 3-D open-work textile sculpture while on display at an exhibition. Since then, she has fallen in love with the connection and interaction between her works and people. Not knowing they're actually works of art, children will start climbing up and rolling around on the colorful nylon-knitted nets. The soft, elastic surface of the nylon membrane in each net is sensitive to a child's slightest movement, capturing their energy and transmitting it back to them or passing it on to their friends. Kids find new ways of playing and responding to each other by doing this, learning how to better cooperate and interact with each other. This net playground is open to the public at Jangheung Art Park in Korea.
Jerry House: a holiday home designed as a playhouse.
Studio Oion (www.onion.co.th)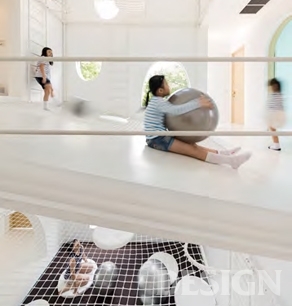 Inspired by the famous American cartoon series Tom & Jerry, Jerry House is a private holiday home at Cha Am Beach for the Sahawats and their four sons. They asked the design studio Onion to turn their seaside house into a gathering place for the family and their friends. Their only request was that it be turned into a playground where members of the family would be encouraged to play in a way they couldn't back home in Bangkok. Running, climbing, hiding, hanging—even falling—are now the encouraged physical activities that are definitely not the average kid's usual way of playing. If a Jerry Mouse House were ever built, it might appear like a big piece of cheese and a desirable route for Jerry to run away from Tom. Onion used customized nets to build a three-story living hall, with metal ladders vertically connecting the interior and allowing children and adults to climb up from the ground floor to the third floor. Furthermore, all the rooms are painted in different colors to divide spaces for privacy and play, depending on their use.