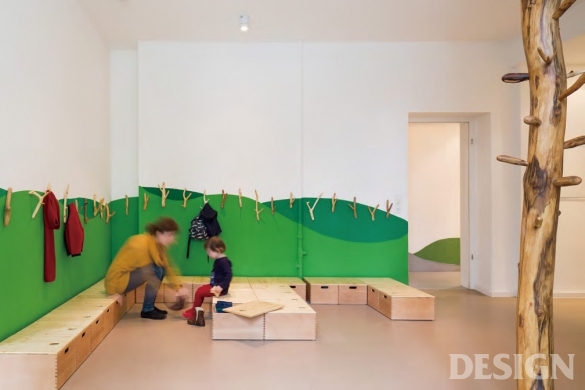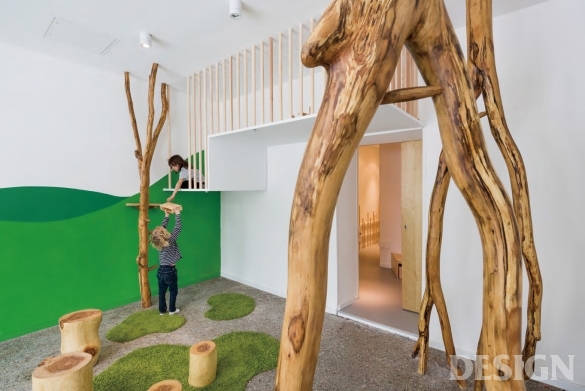 Installing timber in raw form as furniture, the Dragon Cave brings nature inside. Small branches even become hangers.
The emotional, physical and educational benefits a forest has on children are of course exceptional. There are also healing effects, which extensive research backs up, that a forest has on kids. Pebbles, fallen leaves, and wildflowers can become wonderful play tools and stimulate all of a child's senses as well as their imagination. Everyone has precious memories from their childhood, like having fun just by playing house with leaves and sand, for instance.

However, today's urban sprawl has deprived children of the chance to experience nature firsthand, making it seem as far away as the African lions they see on TV or the thin trees illustrated in their picture books. The Berlin-based architecture firm Baukind (www.baukind.de) is well aware of this trend. Founded by architect Nathalie Dziobek-Bepler and designer Lilia Kleemann in 2011, Baukind is an architecture & design firm for children. Their mission is to bring nature into the lives of kids. Although it's only been around for five years, the company has already designed and engineered more than 30 projects for children in several German cities. More recently, they entered the Chinese market and have several projects going on there.

Just like a general architecture & design firm, they not only design and build, but also provide consulting services, from the concept development stage for nursery schools to the design and the manufacturing of tables and hangers for the spaces they build. The firm also accompanies its clients when selecting the landsite or building, and will even go so far as to apply for government grants to fill any shortages in the budget. Quite simply, they're involved in every detail at every stage throughout the project from start to finish. And one particular project is still generating word of mouth three years after its completion.


Baukind designed the KITA Drachenho¨hle daycare center for a non-profit company in 2013. The daycare, whose name means "Dragon Cave" in English, drew attention from around the world for the nature-inspired images and minimalist design elements that were in perfect harmony with the interior. By subtly combining elements such as wood, moss and stones with minimal visual design elements like straight lines, angles and circles, the result was a series of long, winding small bumps in the hallways. The bathroom is a place for soap bubbles, which reproduces the damp ground of a forest within the daycare center. The interior design was aimed at encouraging children to climb and crawl up and down the planted woods, while smaller branches served as hangers. Furthermore, the Baukind-designed atypical tables and chairs also inspired imagination in these young minds. Interestingly, Dragon Cave also has a sauna. Baukind left part of this former salt sauna intact to make play rooms, while the part of the sauna with rugged salt walls around it will stimulate the sense of sight and touch in children.

Today, Baukind is expanding its business areas beyond nursery schools and daycares into shoe stores for kids and family hotels. They also plan on designing schools and integrating areas where seniors spend time so they can interact with kindergarten children.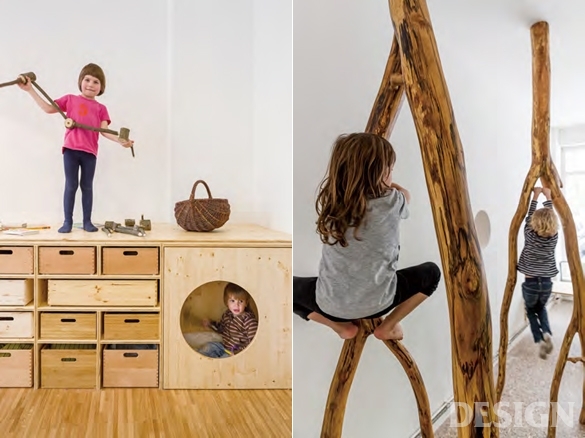 Interior items like trees and small furniture also become play equipment.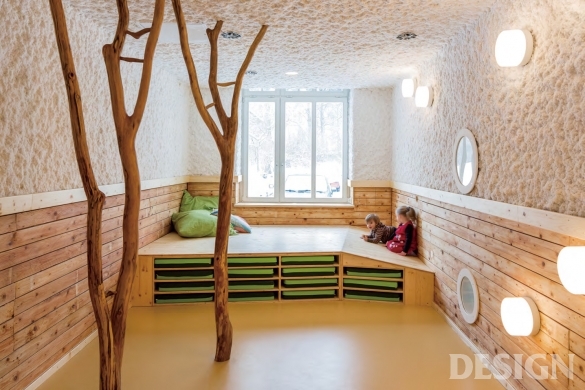 |
The salt-walled playroom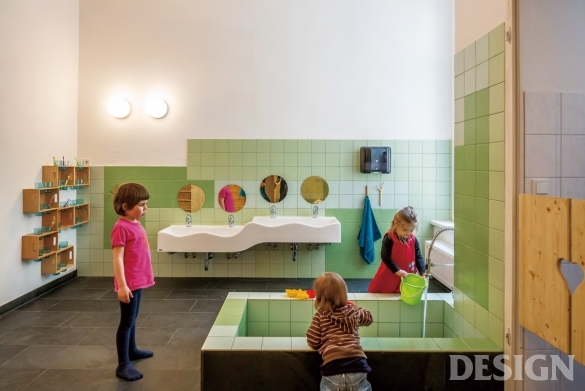 The bathroom design sophisticatedly combines natural items with minimalist design elements.
Interview
Founders of Baukind
Nathalie Dziobek-Bepler & Lilia Kleemann
" We created a space
to naturally learn about nature
while also stressing physical activity. "
©Anne Deppe
All of Baukind's projects can be summed up in two words: children and nature. What brought your attention to these two themes?
We designed a kindergarten back in 2010. The space was too small to design, so we found solutions in multi-functional objects like blackboards on the doors and climbable radiators. That project made us fall in love with designing spaces for children and that's how we founded Baukind, a combination of the German words meaning "build" and "children." What else could be more important—and adorable—than these two things, right? They're the source of our inspiration. As an architecture firm, we also pick the perfect spaces or buildings for our clients and will even apply for government grants sometimes.
Why do you carry out those services?
Building places for children is much more difficult than you can imagine. In particular, finding the right place that is sufficiently safe is the major determinant of our success with a project. Thus, we try and get involved in the project from the planning stage as experts and partners so that we can help lay the foundation for the success of the project. Sometimes clients ask us early on if certain land sites or buildings are safe enough and appropriate for kindergartens. From our past experiences and projects, we've been building upon our property-related connections and networking, so we can actually offer practical tips in finding the perfect property. We think these services can not only ensure the success of our projects, but also make a favorable impression on people about Baukind.
What are the most important factors involved when designing spaces for kids?
Our goal is to ensure that our space design enriches children's lives. First of all, it should be safe and exciting, somewhere that motivates social interplay even without toys or play tools. In the designing stage, we put priority on the spontaneous educational effect of the space. For instance, Baukind strives to create spaces that allow children to learn about nature in real-time while also maximizing their physical activity. Some would think that climbing and hanging are dangerous activities, but experts say these activities are necessary for children to learn how to control their bodies. Forms, materials and colors also work to benefit kids educationally. We usually use ergonomic designs and integrate them with natural colors and materials along with simple, vivid visual elements to provide children with an emotional sense of security and a better quality of life.
Do you have any specific research approach to understand the behaviors and habits of children?
We have seven architects and designers as part of our team, all of whom are parents. We don't do separate research, but we do obtain useful tips and sources for design ideas from observing our own children. For example, our children have taught us that even kids need their own spaces. They want emotional connection with their parents, but they also need time away on their own. This is why we always include some kind of cave—so they can have a little solitude—and build narrow pathways. These both give kids a chance to have time alone.