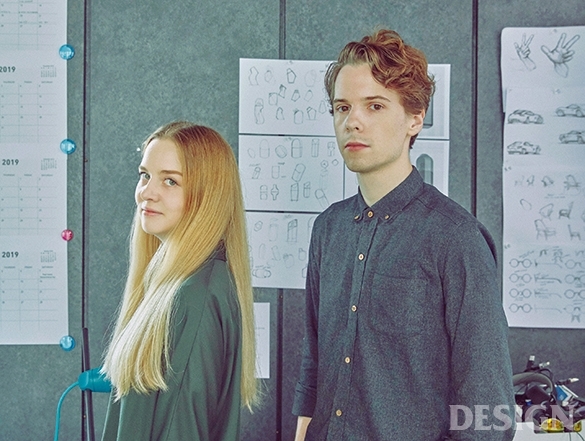 Co-founders of Almond Studio. For the last 3 years of running the company, they've presented minimal and original Scandinavian design combined with Korean manufacturing environment and process. They aggressively promote themselves by participating in Seoul Design Festival, Seoul Living Design Fair and Euljiro Lightway. almond-studio.com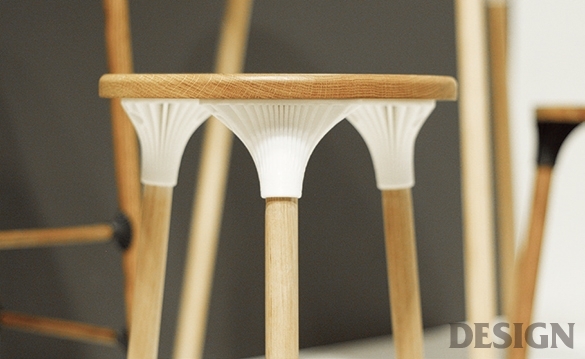 Lamella furniture module series. It is a furniture joining component designed in consideration of digital fabrication era, inspired by ribbed structure of mushrooms and engineered to tolerate heavy weight.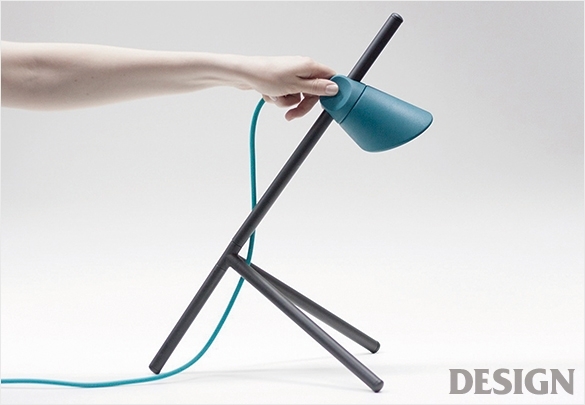 Laika Lighting. It is a multipurpose product.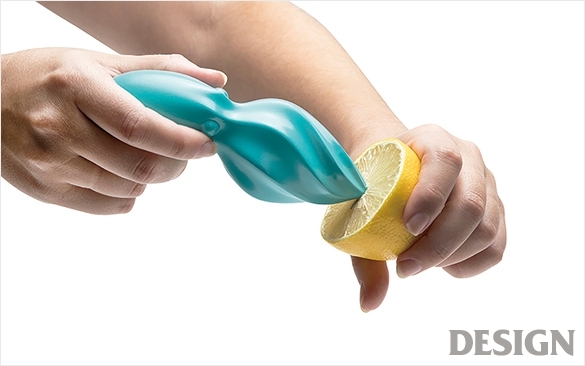 OCTO citrus reamer design inspired from an octopus.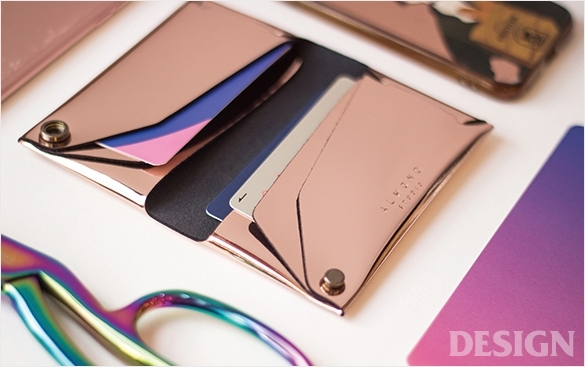 MIR wallet is made of one piece of leather and a snap button without any stitch or adhesive. The name is derived from a space station launched by Soviet Russia in 1986 because the pattern of the accessory shares the similar shape with the facility.

Milla Niskakoski studied product design at HAMK Häme University of Applied Sciences and Erlend Opdahl studied industrial design at Oslo School of Architecture and Design before meeting Sooah Joh at IDAS, Hongik University and founding Almond Studio. They are currently working on varied projects focused on product design. These two Scandinavians says they saw bigger potential in Korea, where Scandinavian design is admired enough and featured everywhere until the last few years ago.

First of all, could you introduce your studio?
Almond studio was established in 2017 by Milla Niskakoski from Finland, Erlend Opdahl from Norway and Shua Joh from Korea. The name is derived from the nut as we think it's a simple shape that clearly represents our pursuit of natural and minimal design. As an almond is a seed by itself, it also signifies our hope to grow up as a tall tree in the future.

It's interesting that you've decided to work in Korea, being from Northern Europe that is a so called a design power.
It is true that Scandinavian designers and design schools are internationally renowned. However, I thought it requires more openness and an inclusive attitude to be a good designer. Both of us wanted to study in somewhere as far as possible from where we were born and raised, to have diverse experiences staying away from familiar atmosphere. Whereas Korean cultural contents including K-pop is well known in Northern Europe, what we were attracted to the country as design students were urban manufacturing industry represented by Euljiro and large material markets in Dongdaemun and Sinseol-dong.

However, studying design is one thing but running a company is another.
After getting a master's degree, we worked as contract in-house designers. Once the contract was over, we were was standing at a crossroads and knew in our bones that it was a right time to open a studio. We had actually had the idea of running a studio in Seoul since in graduate school, mostly because of the urban manufacturing industry and material markets mentioned earlier. Unlike in Seoul, it doesn't offer well-developed material markets and comes expensive to produce something in Finland or Norway. That was why we saw a bigger opportunity as designers in Seoul than in our home.

Could you introduce your work created with help of Seoul's well-developed urban manufacturing industry?
There is our studio's own product with simple design called MIR wallet which is created taking advantage of the manufacturing eco-system of Seoul. Instead of working with a wallet maker, we searched for different factories and experts around Euljiro and Dongdaemun to combine scattering manufacturing capabilities by hunting for materials including leather, TPU and buttons and looking for specialized technicians in slicing, pressing and stamping from here and there in the city. We went around the city on Seoul Bike as we don't have a car. (laugh) So it wasn't costly for us to create a product.

What aspects do you find less satisfying in Korea?
The "bali bali" culture which is an advantage and a disadvantage at the same time. Korea, especially Seoul is a city that never stops. Being from slow cities like Helsinki or Oslo, it is not easy to adapt ourselves to that pace. Communication is not easy as well but that is what we have to overcome for sure.

The expression "Scandinavian style" was almost in fashion in Korea. As Scandinavians, what do you think about this phenomenon?
Frankly speaking, we feel that the expression is being overused. We believe that Scandinavian design is what blends simplicity, form of nature and materials. Even while seeking for such style as Northern Europeans, we have no intention to repeat the fruit of the past. The products of typical Scandinavian design people associate with were created 50 to 60 years ago or in even older days. We want to move forward. By combining the cultural elements of Korea and Northern Europe, we will be able to come up with new design.

Is there a Korean designer you like?
Joongho Choi. We are fascinated by his work posted on Instagram. He seems like a designer of smart solution and refined sense. Although it is not a designer, we love Kakao Friends! (laugh) The brand has a great impact.



■ 관련 기사 (kr/eng)
- 어서와, 한국에서 일하는 건 처음이지?
- (kr)다비데 프라카소
(eng)Davide Fracasso
- (kr)밀라 니스카코스키 & 에를렌 옵달
(eng)Milla Niskakoski & Erlend Opdahl
- (kr)씨 크리스토퍼
(eng)See Christopher
- (kr)요아힘 뮐러랑세
(eng)Joachim Müller-lance
- (kr)샤를로트 테르
(eng)Charlotte Therre